About
As BC mining accelerates, Fair Mining Collaborative joins with First Nations people and local communities in British Columbia in the quest to shape the future for families, land, water, and wildlife. Fair Mining Collaborative provides technical and practical assistance around the issues and impacts of mining. We spend time in communities to provide two-way knowledge sharing for strengthening local capacity to manage the full spectrum of mining concerns: mapping traditional resource inventories and raising awareness of social impacts; staking, permitting, exploration; and operation, closure and reclamation.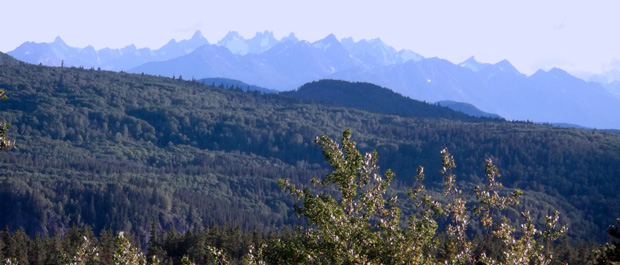 Amy Crook, Executive Director
Amy has been conducting technical reviews of mining developments for 25 years, lending her expertise to assist communities with the full spectrum of analysis, information, meetings, strategy, advocacy, training, and networking that may be needed in dealing with mining concerns large and small.
Before becoming executive director of Fair Mining Collaborative in 2010, Amy provided technical assistance to public interest and aboriginal groups in western Canada and Alaska through the Centre for Science in Public Participation and worked for many years doing environmental impact assessment of resource development for the state of Alaska.
When she's not reviewing a mine or taking part in a community education forum, you might find Amy teaching a gardening class (she's passionate about growing food) or spinning and dyeing local wool with natural ingredients she's gathered.
Amy lives in the Comox Valley, B.C. and holds an M.S. in Fisheries Management and Statistics and a B.S. in Natural Resource Management.
Glenn Grande, Senior Writer / Researcher
Glenn has a Juris Doctorate from the Peter A. Allard School of Law, University of British Columbia, with a focus on Aboriginal Law, inherent rights, and self-determination. He holds a Bachelor of Arts degree through Thompson Rivers University and a Bachelor of Education degree from Vancouver Island University. A certified teacher, Glenn has taught all grade levels in First Nations communities throughout British Columbia.
Glenn is of aboriginal (Cree) ancestry and volunteers on the board of directors at the Vancouver Aboriginal Community Policing Centre. At the VACPC, Glenn supports services, programs, and aid for the aboriginal population of Vancouver's downtown eastside and collaborates to resolve the challenging relationship between aboriginal people and the police, not only in Vancouver but throughout BC and Canada. Glenn is also a former magazine publisher, and served for three years as a soldier in the Canadian Armed Forces.
Tara Ammerlaan, Project Manager
and Website Administrator
Tara joined Fair Mining Collaborative in the fall of 2012 with a unique background as a seaman for the Canadian Coast Guard, co-owner of a successful scuba dive charter business, and experience managing the deck operations of Canada's largest tallship. Tara brings a lifelong interest in environmental science and adaptability to her work with Fair Mining Collaborative.
She is of Metis descent and was born and raised in northern Alberta. Tara earned her Honours B.Sc.in Biogeography from the University of Toronto and now lives in Comox, British Columbia, with her husband and two kids.
Board of Directors
A group of dedicated and knowledgeable individuals serve on the Board of Directors of Fair Mining Collaborative, supporting the organization to help preserve the earth and waterways and keep resource developments respectful to the needs of communities and the environment.
Sandi Chamberlain
Sandi assists with her decades of experience in non-profit management and her vast network of colleagues.
Brent England
Treasurer Brent provides financial oversight as a Certified Public Accountant.
Alan
Mehlenbacher
Alan is an Adjunct Professor in the Economics Department at the University of Victoria who assists FMC with determining the costs and benefits of mining.
Maya Stano
Maya is an associate at the Gowling Lafleur Henderon Law Firm in Vancouver, where she practices Aboriginal, Environmental and Business Law. Maya serves as FMC's Board Chair.
Stan Tomandl
Stan has been involved with people and environmental issues, land use planning, and community engagement for over 25 years as consultant, counsellor, educator and group facilitator; devoted to individuals, families, and communities during times of transition.
Alan Young
Alan continues to be instrumental in assisting with our strategic plan, fundraising, program development and implementation. Alan is the Corporate Program Director of the Canadian Boreal Initiative.
Annual Reports:
Mission Statement
Fair Mining Collaborative (FMC) provides values based, credible technical and strategic guidance to communities, First Nation Leadership groups, and political decision makers with the intention of building capacity to make informed land-use decisions that foster healthy sustainable communities and ecosystems.
We are a Charitable foundation who partners with our clients to build knowledge of mining impacts and benefits so they can fully participate in fair land-use decision making processes that affect their future. We assist communities with reaching their intended outcomes, we don't advocate for a particular outcome.